Stolle Machinery Company: Beverage Can Making Equipment Design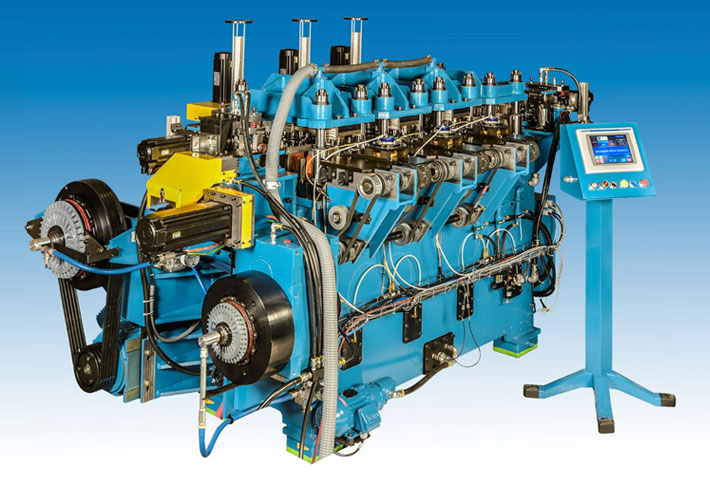 As one of the world's leading suppliers of beverage can production machinery, the
Stolle Machinery Company
offers proven equipment, OEM parts, and maintenance services to can-making firms globally.
Over the last 12 years, Stolle has worked with Prodigy to update and improve its equipment offerings—including the design and development of entirely new can-making machines. In doing so, Prodigy has empowered Stolle to expand its portfolio of patents, boost speed of manufacture, decrease downtime, and reduce required materials and energy, while dramatically improving the overall efficiency of can lines.
Background on Stolle Can Manufacturing Lines and Prodigy Participation
Stolle beverage can manufacturing lines include a variety of machines that change the shape of metal through a process called "can forming," which produces the familiar shape of a beverage can. The can formation process usually requires machinery like cupper presses, bodymakers, trimmers, neckers, washers, decorators, palletizers, and conversion presses.
Since 2011, Prodigy has worked with Stolle on design projects for its conversion presses, cupper presses, bodymakers, trimmers, and neckers. Below we describe two of those projects and their results.
Cupper Press Project: Finite Element Analysis and Tooling Design to Reduce Product Materials
The cupper press begins the beverage can-making process by pressing a hockey puck-shaped tool into aluminum sheet metal. This creates a wide, shallow cup that resembles a tuna can. Later, another machine forms the "tuna can" into the tall, familiar shape of a beverage can.
In this project, Stolle wanted to use finite element analysis to simulate the metal forming process on the aluminum sheet required by the cupper press machine. The goal was to save 5% on costs by reducing material thickness, redesigning the tooling, and reducing the energy required to form the material.
Process
While many design firms are capable of finite element analysis, Prodigy's experience applying finite element analysis to metal forming is unique. Prodigy's engineers leveraged this skill to analyze the tooling and metal required in Stolle's cup-making process—with the goal of reducing the metal and improving overall efficiency.
By constructing a finite element analysis computer simulation, Prodigy analyzed a number of design considerations such as:
The sheet thickness of aluminum that comes into the cupper press machine

The overall shape and design of the "tool" (a hockey puck-like piece of metal that forms the initial can shape)

The speed at which the tool forms the metal

The force applied to the tool as it forms the metal

An analysis of how the above considerations could cause the process to fail
By testing these factors in a computer simulation, Prodigy was able to predict various changes to the cupper press machine design before building a prototype. This dramatically improved the speed, cost-efficiency, and success of the overall design and prototyping process. 
Results
Prodigy achieved all design goals and objectives for this project. The design empowered Stolle to release new and more efficient tooling for the cupper press machine, while significantly reducing the amount of metal required for a strong and durable can—and optimizing the speed and energy required for the process. 
Necker Machine Project: Build a Modular and Faster Necker Machine
The necker machine creates the tapered neck and seaming flange at the top of beverage cans. It also reforms the dome at the bottom of cans to increase strength. Prior to working with Prodigy, Stolle would outsource the necker machine to complete a can line. 
In 2017, Stolle wanted to build its own necker machine to add to their competitive advantage and provide a complete in-house solution. Stolle contracted Prodigy to design a necker machine that was modularly flexible and substantially faster than those of competitors. Prodigy completed the project in less than 12 months. 
Process
Working closely with one of Stolle's engineers, Prodigy developed a necking machine capable of operating at 4,800 cans per minute—compared to the 3,400 per minute speed of competing necker machines. Prodigy also designed the necker machine to be modular—allowing operators to configure the machine to produce a wide variety of beverage can sizes, from 6 ounces to 32 ounces and larger.
Results
Within a year, Stolle had a necker machine prototype to display at the 2018 Cannex trade show 
At this time, Stolle has installed more than a dozen Prodigy-designed necker machines around the world with a backlog of several more. Stolle also maintains an ongoing consulting relationship with Prodigy to ensure that their necker machines continue to offer state of the art performance. This consulting service is especially valuable to Stolle customers when process issues arise. Finally, Stolle maintains sole ownership of all patents related to its necker machine. 
---